Hey y'all!
I came up with that title just now and I literally can't stop laughing. I've peaked. It's time for me to retire now.
I can't believe it's already November! It's one of my favorite months, always filled with Christmas gift shopping, football games, and spending lots of time with family. If you're following along at home, that's a LOT of outfits. But don't worry- I'm here to help! The one thing you need for fall is a flannel, and you'll be good to go for any occasion.
No fall wardrobe is complete without a solid flannel/plaid piece (or a few good flannel options!). A flannel shirt is the ultimate layering piece. It's warm like a jacket, but light like a shirt so you can go from those cool mornings to warm afternoons without having to change your whole outfit or lug around a heavy coat. It can also be a perfect accessory to take a plain outfit and add a little fall flare!
Here is one of my favorite flannels that I wore all the HECK around Nashville and just a few outfit ideas. It's just so dang versatile. I wore it out to a rooftop bar, around when we were walking around in the rain, and tied around my waist while we were shopping. 
There are so many good options for fall flannels and plaids, and they aren't limited to shirts! Here are 5 places to find fall flannel/plaid staples that need to be in your closet:
TARGET
Of COURSE Target has good options for flannel, in store and online. Their new line, Wild Fable, has several cute options like this one!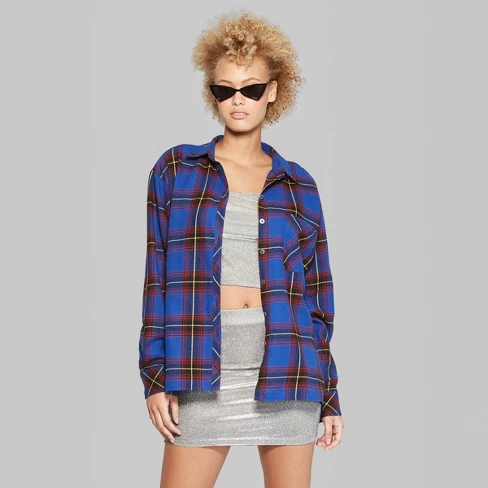 CHARMING CHARLIE
So many plaids and flannels with great details and feminine twist at Charming Charlie. Not your typical fall flannels, but they have the cutest options like this one with a great bell sleeve detail. This top is perfect for running errands and doing some holiday shopping, or spending your Saturday at a football game!
AMERICAN EAGLE
American Eagle is the KING of fall flannels. They have dozens of options, in every plaid you could imagine, and this season they have tops with a twist. From classics like this one (and when it says ahhmazingly soft, it MEANS ahhmazingly freaking soft) to cute babydoll styles like this one, American Eagle has you covered on all things flannel.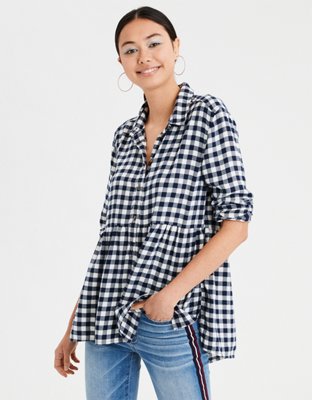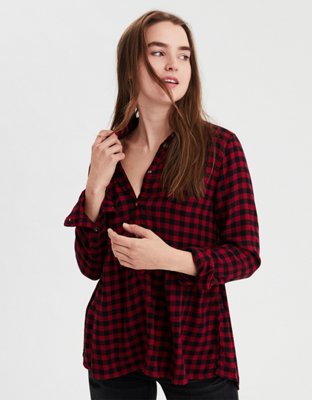 LOFT
LOFT has the CUTEST twist on a classic flannels and plaids. This is the perfect shirtdress for holiday photos, Thanksgiving with your family, or a fun fall date (like from my fall date ideas post). They have so many cute sweaters, pants, and accessories with great plaid details.
OLD NAVY
Can't go wrong with a classic- Old Navy has classic plaid prints in great styles, like this red tartan button down. They also have plaid pullovers, pajamas, dresses, and styles for men, women, AND kids. I smell matching Christmas family photos.
Here are some of my favorites, but there are so many good options! Stay tuned to my IG for more updates throughout the season!